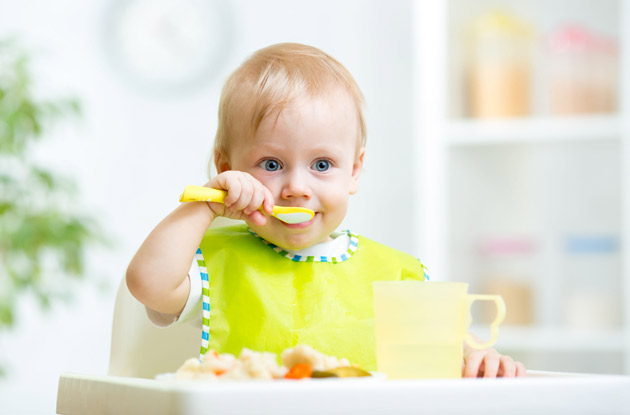 How to Help Your Child Reach His Feeding Milestones
Are your child's feeding skills developing on track? Here's why it's vital to his health and well-being.
Get kid-friendly activities sent to you!
Get the Best Kid-Friendly Activities
Sent to You Weekly!
When should my child begin feeding herself independently?
She should be scooping her food and feeding herself between the ages of 15-18 months. Finally, by 2-3 years of age, your child should begin utilizing a fork, starting by pushing her fork onto her food. She also should be able to use a spoon without causing any spills.
My child does not enjoy eating/My child has not met these milestones! What can I do?
It is crucial for children to meet these milestones for overall feeding development and functioning in daily life. Therefore, take initiative to improve these skills the best you can. Try utilizing a spoon with fun snacks that are easy to scoop, or have your child practice the act of scooping at the beach with a pail and shovel! In addition, it could be helpful to have your child first 'feed' his favorite toy (perhaps an action figure or baby doll) to improve his comfort level and skills. Play-based activities, such as picnics, pretend tea parties, or playing kitchen and cooking a meal with you are helpful in engaging children—especially younger ones—in the components of feeding. However, if your child has not met these milestones and continues to struggle, it's crucial to contact your child's pediatrician/and or a speech language pathologist to evaluate your child's current skills. It's important to be aware that if these milestones are not achieved, therapy can become a medical necessity. Otherwise, your child could eventually be at high risk for a future limited dietary repertoire, which can often lead to social isolation, as well as possible mental/behavioral difficulties.
Resources:
Super Duper Handy Handouts: The Guidelines for the Development of Self-Feeding Skills by Kimberly Mielke MSOT OTR/L
"Order for Introducing Baby Foods" by Kay A. Toomey, Ph.D.
"Beginning Food Exploration" by Kay A. Toomey, Ph.D.
"The Role of Jaw for Feeding and Speech" by Sara R. Johnson, MS CCC SLP