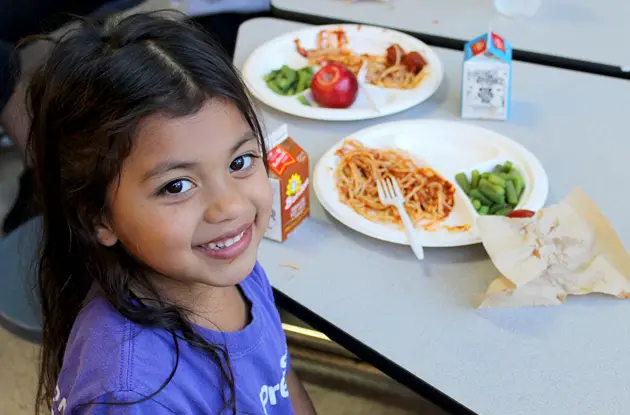 How Healthy, Well-Balanced Meals Boost Brain Development in Children
Proper nutrition is essential to healthy brain development—and can help your children be more successful in school and in life.
Get kid-friendly activities sent to you!
Get the Best Kid-Friendly Activities
Sent to You Weekly!
Nutrients that are important in the formation and the development of the brain—and help support and maintain the brain throughout a person's life—are protein (which is most important in terms of overall growth of the brain), long-chain fatty acids (omega 3 and omega 6, for example), minerals like iron and zinc, B vitamins, and choline.
Naturally, most (if not all) parents will want to ensure their children are getting those nutrients every day. But many parents may be left wondering exactly what foods contain those important nutrients. Feeding your child three well-balanced meals per day that each contain some (or all) of the following foods will give your child a boost in school, according to Doyle:
Berries, including strawberries, blueberries, blackberries, and raspberries, are a great source of flavonoid (antioxidants), which help reduce inflammation and oxidative stress.
Eggs are a good source of choline and help in the production of neurotransmitters, which help the brain talk to other parts of the body.
Nuts and seeds are a good source of long-chain fatty acids, which help to improve brain function, as well as protein.
Whole grains, such as oats, barley, and quinoa, are rich in B vitamins that can reduce inflammation.
Avocados contain monounsaturated fats that promote healthy blood flow in the brain, B vitamins, and more.
Beans are high in protein and B vitamins.

To ensure their students are getting these nutrients in the meals and snacks, many schools are partnering with meal providers, such as Revolution Foods, which uniquely works with a chef team that engages with students throughout the development process to craft well-balanced menus—containing all of the above foods in meals that kids love— that exceed nutrition guidelines set forth by the National School Lunch Programs and in alignment with the Dietary Guidelines for Americans.