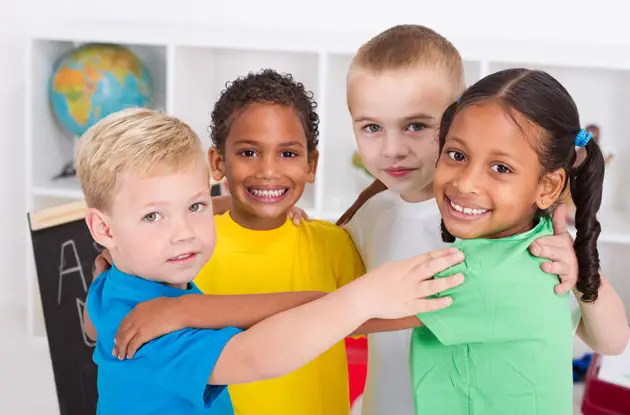 The Benefits of An Early Childhood Montessori Education
Learn why Montessori's unique philosophy is a perfect fit for your child.
Get can't-miss family activities sent to you!
Get the Best Family Activities
Sent to You Weekly!
Manners Modeled
Of course, parents want their young children to learn courtesy as they grow. An early Montessori childhood classroom is the ideal environment for acquiring proper manners. Instead of approaching common courtesies as a chore, Montessori teachers integrate them seamlessly into each day, modeling the behvariors by saying "please," "thank you," and "no thank you" to the children. Through constant repetition, the children incorporate these phrases into their own repertoire.
Structured playtimes, too, give children ample opportunities to practice their manners. In the gym, for instance, children will interact with one another through games like jump rope, kickball, and bean-bag toss. In the cooking area of the classroom, children can use their "please" and "thank yous" as they make a batch of play clay. At the same time they are learning math and science, and being creative, they are refining their social finesse.
Showing Self-Control
Just as children in an early childhood Montessori classroom are given control over their curiosity, they are encouraged to learn self-control as well. If they do something that affects another child negatively, they are urged to think about the consequences of their actions. ("How do you think Susie felt when you grabbed the ball away from her?")
Early childhood Montessori teachers aim to give each child the tools he or she needs for self-soothing and regulation. A very young child who bites, for example, might be shadowed and given toys safe for teething. Transitions from one activity to the next—say, play to snacktime—are announced repeatedly in advance, giving children the chance to finish what they are doing, so they do not feel interrupted. In this way, children are given control over their own bodies and mental states—something that helps raise their self esteem.
Schooled for Success
In all, an early childhood Montessori education sets up young students for success in the upper grades and in life itself. It's about giving children the skills they need to excel as older students, and ultimately as grown-ups. Learning things through trial and error ensures the lessons stick—children are allowed to play with dirt and sand; to get messy; to figure things out for themselves. The end result is that children grow up to be creative self-starters, instilled with a lifelong love of learning.
What kind of children do best in an early childhood Montessori classroom? The answer is simple—all children.