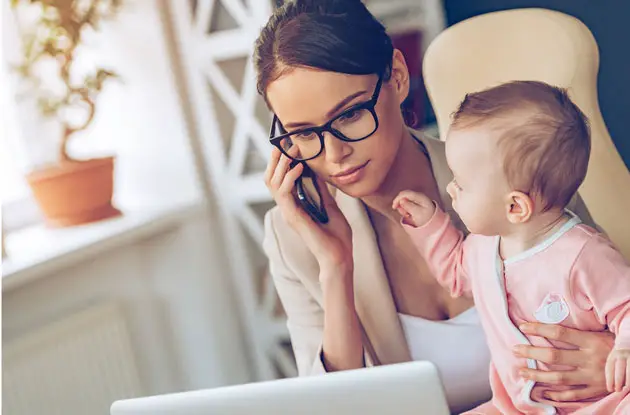 Top Five Parent Mistakes You Can Avoid
Get kid-friendly activities sent to you!
Get the Best Kid-Friendly Activities
Sent to You Weekly!
Mistake #3: Thinking Babies Don't Replace Bosses
It's doubtful that Pete Townsend was thinking about the requirements of parenting when he penned the line, "Meet the new boss, same as the old boss," but new parents shouldn't think taking time off from work to raise a baby is anything less than swapping out one set of demands on their time and patience for another.
You might imagine long lazy days gently rocking your child to sleep after feeding and then tiptoeing quietly away to catch up on your reading, cooking, or neglected household projects, but your new pint-sized boss will have other plans. There's a never-ending cycle of diapering, feeding, soothing, and bathing to get used to that more than fills in for all the time you spent in the office.
Keep in mind there's an added element of supervision that gets tacked on as time moves on, since most babies start to move around on all fours somewhere between 9 and 12 months.
Mistake #4: Underestimating the Splash Zone
This is one of those areas where the little ones are well ahead of the adults when it comes to gender equality—both boys and girls have an uncanny way of holding a little something back that they unleash at the exact moment when mom or dad is in the process of changing a diaper. On a related note, if you start changing your little one immediately after she's finished that other more solid kind of potty, you might very well find your baby was only in the middle of a poop. The splash zone is one thing, this kind of mess is quite another.
Mistake #5: Comparing
In the end, babies are just little developing people, and we all know that it's pretty much impossible to find two adults who are exactly the same. Everyone develops skills and grows at different speeds, and infants starting out on their journey march to their own little drummers right away. Little Jeffrey might weigh a tad more than Susie at the same age, and Jerome might already be sleeping through the night while baby Jessica still fusses at 3 a.m., but comparing newborns is just a form of self-inflicted torture you can do without.