Third Street Music School Settlement, the nation's oldest community music school, was founded in 1894 and has been changing lives and its community by providing access to world-class music instruction, regardless of a student's financial resources or ability. As part of the settlement movement of the mid-19th century in which young university graduates "settled" in poor, immigrant communities to improve the quality of life, Third Street originally employed live-in social workers and even gave baths to some children along with their music lessons. From its very inception, Third Street has been a home away from home for countless students, instilling within them a genuine sense of accomplishment and achievement. Third Street still serves a large immigrant community, and more than 75% of all students receive some type of financial assistance -- need-based financial aid, merit-based scholarships, and tuition-free/discounted instruction and enrichment programs. Over the course of 117 years, Third Street's programs have grown and earned a reputation for teaching excellence that now attracts students and families with diverse backgrounds from all over the New York area.
Now in its second century of service, the School provides instruction in music and dance to more than 5,000 students of all ages at its school on East 11th Street and through 28 partnerships with schools and community centers primarily on Manhattan's Lower East Side as well as Brooklyn, Queens and the Bronx. The School is known for its vibrant chamber music programs, its new focus on adult programming, and its commitment to woodwinds and brass instruction for pre-teen and teenage beginners. Third Street offers weekly after-school and Saturday music instruction (individual and group) in most instruments and voice, along with theory, composition, chamber music, ensembles and many performance activities. The School also offers dance classes in ballet, tap and hip hop; a variety of summer programs; and a range of music-centered early childhood programs, including a licensed preschool. And, as part of its educational mission and in service to the broader community, Third Street presents more than 250 free-to-the-public concerts and recitals by faculty, students and renowned guest artists each year.
Third Street Music School Settlement believes that music and dance transcend cultural and societal boundaries, inspiring togetherness, bringing people joy and enriching the communities in which they live. Access and exposure to the arts in an integral part of a thriving cultural community and a well-rounded education. To this end, Third Street strives to be a leader in arts learning both in the community and nationwide.
Visit the School's Website, to find out more about Third Street and upcoming events or find Third Street at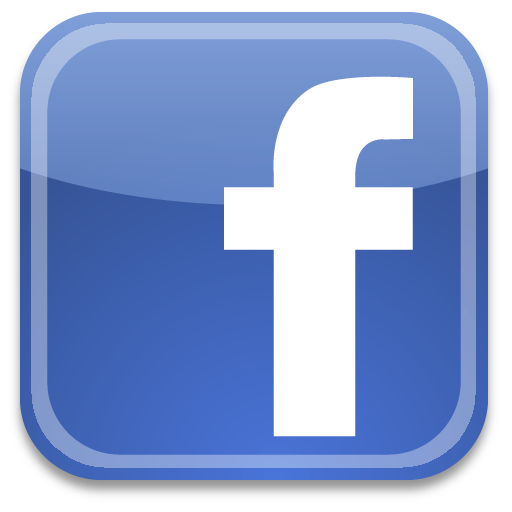 or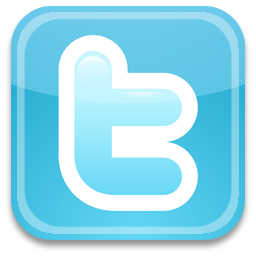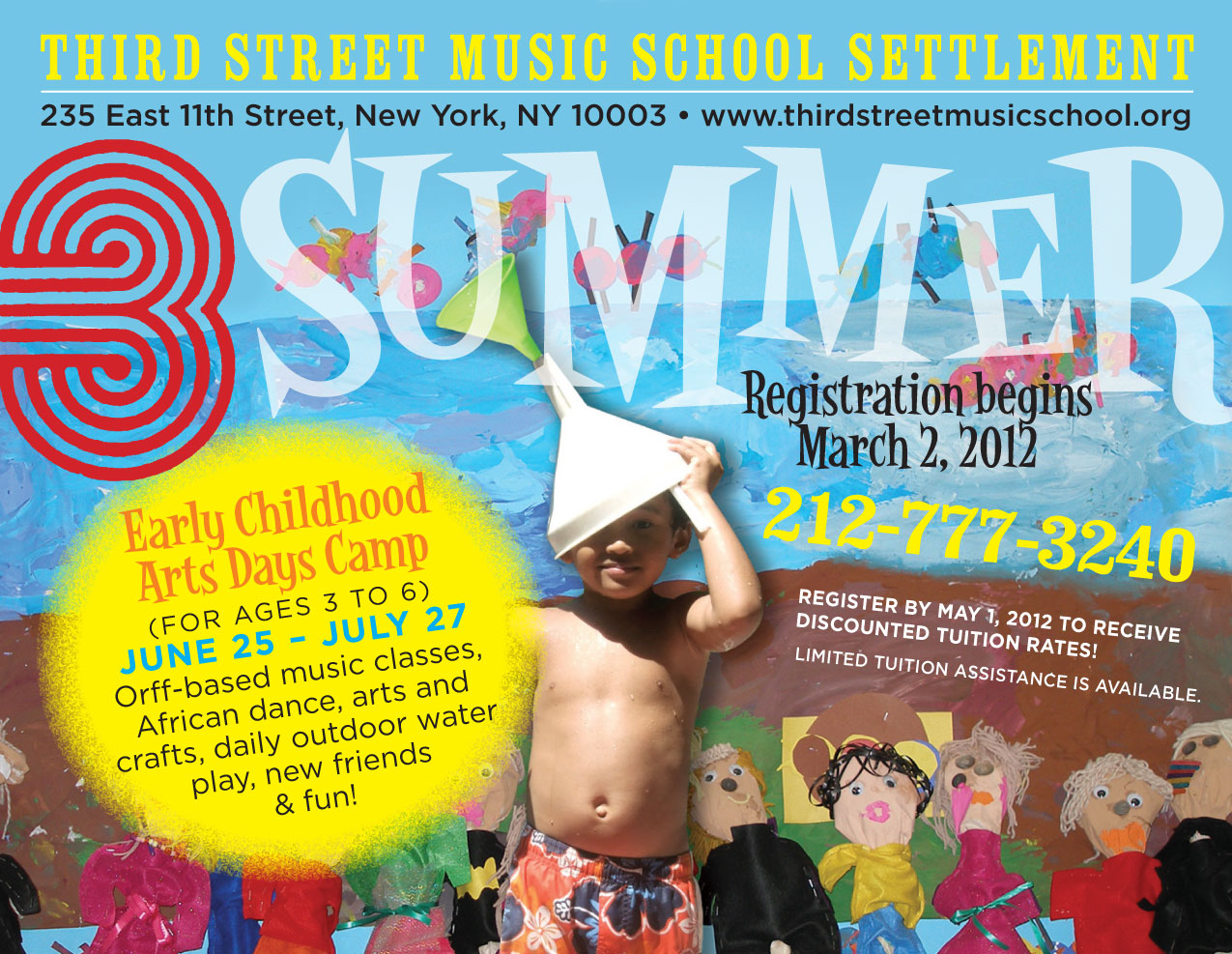 Enroll your child for a journey around the world with music, art, folktales, and dance! Early Childhood Arts Day Camp is a creative and fun program for children, ages 3 to 6, with 5-, 3- or 2-week options. Explore a different part of the world each week through folktales, music, arts and crafts, dance and cooking activities. With weekly instruction in African dance and an Orff-based music class, special events, camp sing-alongs and concerts, and daily outdoor water play, your child will experience all the joy and creativity that Third Street Music School Settlement has to offer. Join us this summer in an environment where fun and friendship flourish!
SUMMER FUN – PROGRAMS & CLASSES – PRINT GUIDE
Third Street Music School welcomes children and adults for Individual and Partner Lessons this summer. Third Street's experienced teachers provide one-on-one or two-person lessons to musicians of all skill levels and instruments. Individual and Partner Lessons – part of Third Street's pathway to enthusiasm and excellence – provide an opportunity for concentrated and personal attention. Lessons are offered in either four- or six-week options, and run from June 24 through Aug. 2. Tuition assistance is available.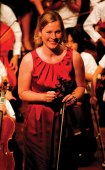 Shalisa Kline Ugaz, director of programs, brings more than 20 years arts leadership and performance experience to Third Street Music School Settlement, the nation's oldest existing community school for the arts, founded in 1894. Ms. Ugaz directs all the school's activities, from music programs for children, teens, and adults, to early childhood programs including a music-centered pre-school. Third Street's approach to early childhood music and dance education integrates the development of social, rhythmic, emotional, creative, and academic skills. Begin your music journey at downtown Manhattan's premiere community music school, Third Street Music School Settlement.
Read More About Third Street Music School Settlement
Third Street Music School Expands Its Preschool Program
Third Street Music School unveiled several improvements to its preschool program for the 2011-2012 school year. In addition to an expanded schedule, the school now offers an enhanced music curriculum.