The Park Preschool and The Barclay Street School offer New York City parents one great preschool in two downtown locations.The schools center on the philosophy that children learn through play.As such, both schools focus on fostering the personal development and individuality of each child; this allows learning, curiosity, and discovery to flourish.
We strive to create an atmosphere that makes children feel comfortable and secure and that conveys the joy of learning to children in a mixed aged group setting.Our teachers provide the encouragement and support that are so crucial in instilling self-confidence and positive self-image in young children as they learn and endeavor to understand the world around them.We also work to cultivate creativity within our students through engaging them in the arts and to foster social skills by encouraging them to interact and socialize with each other.
As educators, we recognize the importance of parental involvement in the development of young children; thus we welcome dialogue, involvement, and input from parents at our school.Additionally, we understand that the transition to preschool can be difficult and so offer parents the option to send their children to school between 2 half days and five extended days a week.
For more information on The Park Preschool and The Barclay Street School, visit www.theparkpreschool.org and www.thebarclaystreeetschool.org, email info@parkpreschool.org, or call 212-571-6191.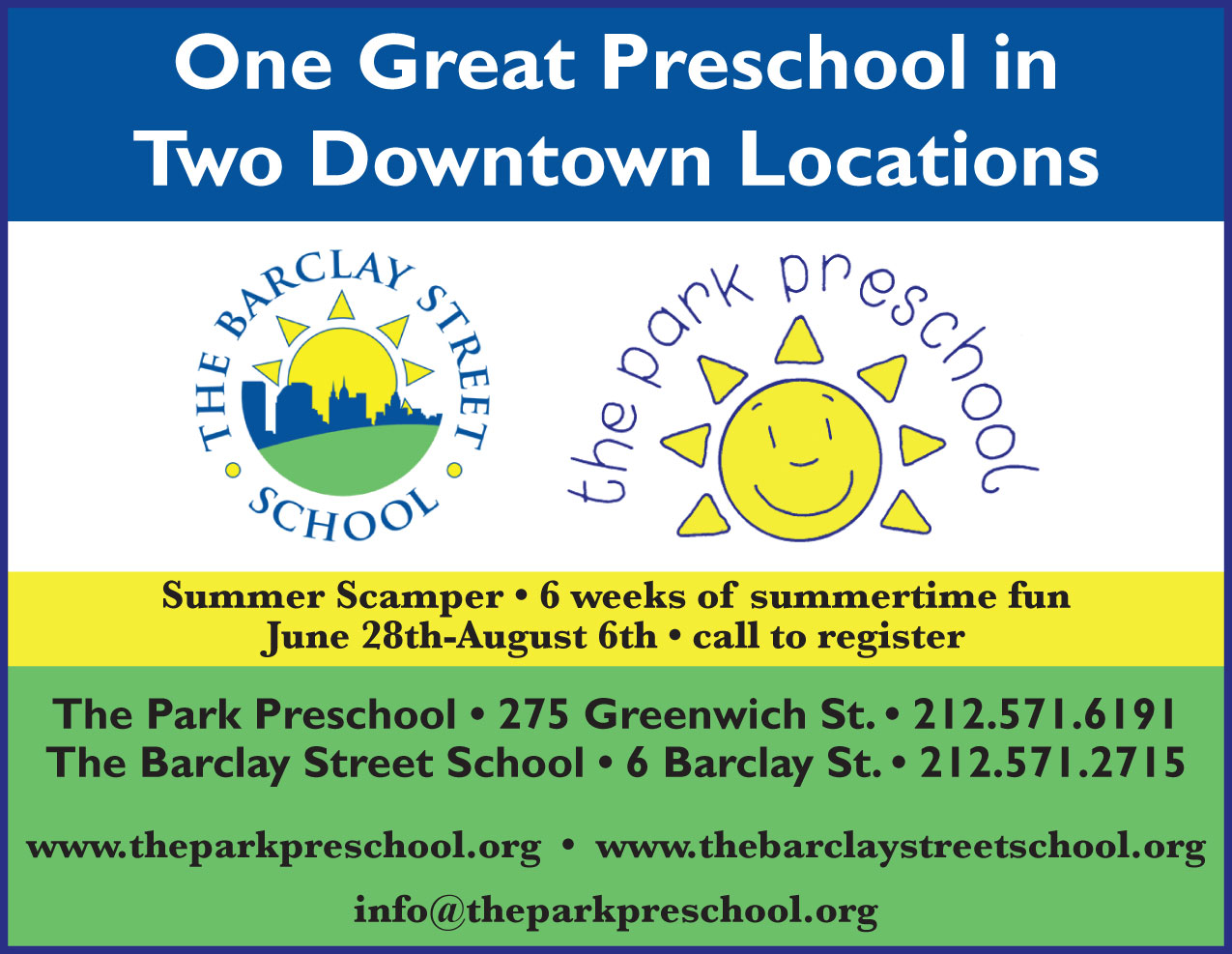 BACK TO SCHOOL
"Growth through nurturing." Beginning our 20th school year in Tribeca with our guiding principal, children learn through play. In our mixed age group settings, we focus on personal development and let each child learn and develop at his or her own pace. We offer flexible schedules to meet both the family's childcare and child's developmental needs.
Read More About Park Preschool (The)
Academic Enrichment Classes and Programs for Kids in Manhattan
Our guide to academic enrichment classes and programs in Manhattan offers a comprehensive list of tutors, academic centers, math tutors, writing and English tutors, foreign language study, homework help programs, and after-school enrichment programs to help your child excel in all school subjects. Consult our listings for the best academic enrichment classes and programs from the upper east side, to the west village, midtown, and all other Manhattan neighborhoods.