GREENWICH HOUSE ARTS FOR KIDS
After School Program | Music School | Summer Visual Arts Camp

For children ages 3 to 17, Greenwich House offers expansive and age-appropriate programming with a focus on the arts. Our historic West Village buildings house more than 40 classes, from dance to karate to ceramics, offered through our After School, Music and Summer Visual Arts Camp programs.
Semester Dates (Registration is ongoing, as space allows)
Fall: September 10 - December 9, 2012
Winter: January 2 - March 26, 2013
Spring: April 1 - June 24, 2013
Greenwich House After School Program

Greenwich House makes it easy for parents to give their children a fun after school experience in a safe environment. Walkover services from select downtown Manhattan schools and extended hour options ensure convenient care from experienced professionals.

A range of classes for children age five to age 17.

The program strives to provide students with opportunities that build friendship and self-esteem using a variety of experiences that explore their artistic creativity and rely on collaboration with other students. Join us for an enriching after school program where your child can grow and learn under the supervision of trusted instructors in a welcoming environment.

Greenwich House follows the New York City Public School calendar and also has holiday camp programs for days your child has off that you might not. Holiday camp activities include trips to museums, theaters and other cultural activities around the city, as well as sports, games and artistic enrichment.

For more information on the after school program please visit: www.greenwichhouse.org/after_school
Greenwich House Music School (GHMS)
GHMS serves the musical needs of students of all ages (from as young as six months to adults), with private lessons, group classes, ensembles and regular student and faculty recitals.
For decades, GHMS has been providing classes in dance and visual arts in addition to music. Many of our most popular classes combine music, art and play to enrich your child's creativity and aesthetic experience.
Greenwich House Music School considers students' needs throughout the various stages of their developmental learning. Parents often think of private music lessons as part of a child's general extra-curricular development, or as a form of entertainment. With the right teacher, however, lessons can be not only educational and fulfilling but also entertaining and rewarding.
The school is a member of the New York City Coalition of Community Schools of the Arts and The National Guild of Community Schools of the Arts. For a full list of Music
For classes, private lesson information and types of instruments offered visit:
www.greenwichhouse.org/music_school/chlidrens_programs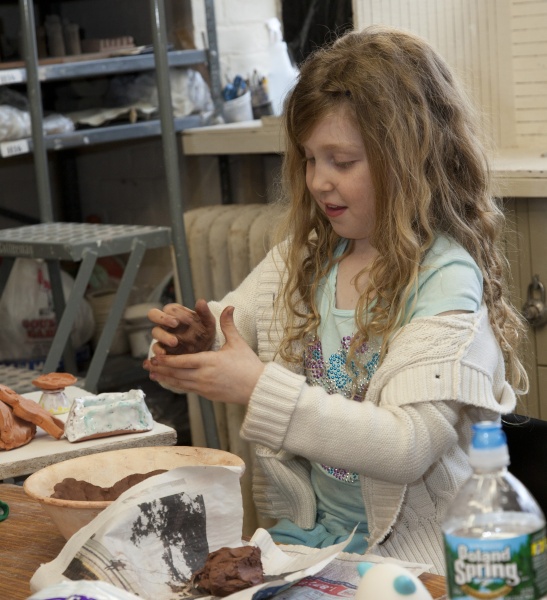 Greenwich House Summer Visual Arts Camp
The Summer Visual Arts Camp is open to kids between the ages of six and 14, with counselor-in-training opportunities for the older campers. Children can register for four-week sessions, the eight-week camp in its entirety, or on a per-week basis. Visual Arts Camp is a great way to continue art-focused learning in a fun, creative environment during the summer months of July and August. Children and young teens work in art studios and with instruction from talented and inspiring staff. All levels of art experience are welcome—the only requirement is a sincere interest in visual arts!

Summer Camp registration begins in January 2013.
Complete Class Listing:
Advanced Gaming
Advanced Intermediate Ballet
Animation
Architecture and Design
Art at Age 3
Art at Age 4
Art at Ages 5-6
Ballet I
Ballet II
Basketball
Cartoon Art
Chess
Gig Lab
Junior Ballet
Karate

Kids Club
Little Theater Workshop Camp
Medley of the Arts for Age 2
Medley of the Arts Summer Camp
Mixed Media Arts
Modern Dance
Morton Subotnick's "World of Music"
Music at Age 3
Music at Age 4
Music at Ages 5-6
Music Together for Infants and Toddlers
Music, Art and Play for Ages 3-4

Musical Theater Chorus
Painting and Drawing
Photography
Pointe
Pottery
Pre-Ballet
Printmaking
Science
Senior Ballet
Sewing
Soccer Stars
String Ensemble
Yoga
Young Artists Workshop
Young Voices
Greenwich House was founded in 1902 as a settlement house to help Greenwich Village's growing immigrant population adjust to life in New York City. Though needs of the City continue to change, the mission of Greenwich House remains constant: to help individuals and families lead more fulfilling lives by offering cultural and education programs , social and health services, and opportunities for civic involvement to New Yorkers of all ages and backgrounds. Each year, Greenwich House provides nearly 12,000 New Yorkers with educational, social, health services and cultural programs, all aimed at providing personal growth and enrichment.
Want to learn more about this business? Send them a direct inquiry.
Be a good fellow parent and share this with a friend who would be interested
Read More on NYMetroParents.com:
Summer Activities in Rockland County, NY
Searching for great summer activities for kids in Rockland County, NY? Use our guide to find kids classes, Rockland summer camps, summer programs, activities near Rockland County, and family excursions close by. Find all of your summer activities from Nyack to Suffern in Rockland County.

Tips for Child-Proofing Your Home
Whether moving into a new home or simply re-organizing furniture in various rooms of your house, take note of these important child-proofing tips in mind to keep your children safe.

Summer Activities in Westchester County, NY
Do you need great summer activities for kids in Westchester County, NY? Use our guide to find kids classes, Westchester summer camps, summer programs, activities near Westchester County, and family excursions close by. Summer activities in Westchester are at your fingertips.

Guiding Eyes for the Blind Hosts Annual Guiding Eyes for the Blind Golf Classic with Eli Manning
Guiding Eyes for the Blind hosted spring tee-off for its annual Guiding Eyes for the Blind Golf Classic with New York Giants quarterback Eli Manning at Mulino's of Westchester in White Plains.

Carousels on Long Island
This guide includes information on carousels and merry-go-rounds on Long Island, New York, including Farmingdale, Garden City, Greenport, Medford, and West Hempstead. We've included location, hours, price per ride, and a description for each carousel.

A Guide to Carousels in the New York City Area
Our guide includes carousels and merry-go-rounds in New York City, including Manhattan, Brooklyn, Queens, the Bronx, and Staten Island. You'll find details on each carousel, including its location, hours it's open, price per ride, and a description.

Rockin' Parties Brings the Fun to You
Rockin' Gamin' Parties and Rockin' Glamour Parties, a mobile party entertainment business based in Montvale, NJ, offers video game and glamour and makeup parties for children in Bergen, Rockland, and Westchester counties. Parties are held in 30-foot, climate-controlled trailers that come to you and keep the party out of your house.

Ask the Experts: A Parent's Guide to Head Lice
We spoke to six local experts to find out everything you need to know about head lice, including the signs of your child having it, how to treat head lice, what happens when there is a lice outbreak at school or camp, how you need to clean the house, and ways to help your child and yourself cope with the embarrassment of having head lice.

Ask the Expert: What Should I Know About Lice?
Local experts share what every parent needs to know about head lice, including signs your child might have lice, how often you should check for lice, what lice look like, when your child can be around peers, how much of your house needs to be cleaned, and whether lice carry diseases.

14 Fun Mother's Day Events in Westchester
Looking for fun things to do for Mother's Day in Westchester County, NY? Our list includes Mother's Day crafts, shows, and outdoor activities in Katonah, Montrose, Mount Kisco, Peekskill, Rye, Scarsdale, South Salem, Tuckahoe, White Plains, and Yonkers.