Enter coupon code NYSP at checkout to receive $5 of any course!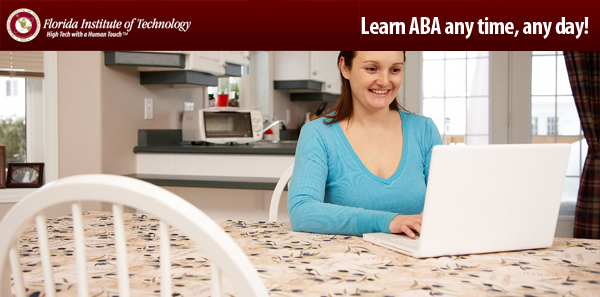 Your Best Online Source for all Things Applied Behavior Analysis
Continuing Education at Florida Institute of Technology specializes in all things applied behavior analysis. We are passionate about providing top-quality education in behavior analysis at affordable prices. All of our courses are offered completely online and are taught by highly qualified instructors and respected experts in the field, giving you an excellent learning experience from a Board Certified Behavior Analyst right from home, on your own schedule. Florida Tech offers a wide range of resources for the behavioral community; so whether you are looking to become a board certified behavior analyst, learn more about Autism treatment, expand your knowledge of verbal behavior, or participate in our parent training workshops, Florida Tech is your best resource!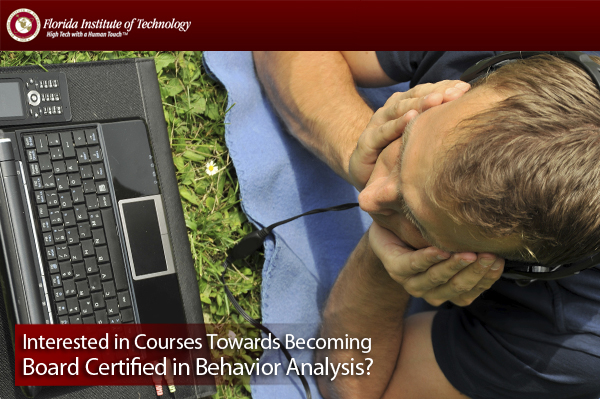 o Preapproved course sequence for BCBA and BCaBA certification*
Fully online courses and exams
Highly flexible scheduling
Online, live weekly meetings with a co-instructor
All co-instructors are hand-picked, highly qualified BCBAs
Lectures from top experts in the field
Florida Tech's ABA Online professional development course sequences are approved by the BACB and meet the instructional requirements for eligibility to sit for the Behavior Analysis Certification Board exam.
o For more information check out: http://www.fit.edu/bst/programs/aba/cert_req.php

• Looking to maintain your BACB certification, or expand your knowledge of Applied Behavior Analysis?
o We offer a wide array of CEU (continuing education unit) coursezzs*On-demand courses; get your type II CEUs on your schedule!
Over 150 CEUs available through more than 35 different courses
Lecture topics include:
Verbal Behavior with Dr. Mark Sundberg Ph.D., BCBA-D
Ethics with Dr. Jose Martinez-Diaz Ph.D, BCBA-D
VB MAPP Training with Dr. Mark Sundberg Ph.D., BCBA-D
Functional Analysis with Dr. Iser DeLeon Ph.D., BCBA
Motivating Operations and Vocal Verbal Behavior with Dr. Vince Carbone Ed. D., BCBA-D
Behavioral Approach to ADHD with Dr. "Bud" Mace Ph.D., BCBA-DHistory of Behavior Analysis with Dr. Jack Michael Ph.D.
Natural Environment Training
Behavioral Skills Training
And many more!

Quarterly live broadcasts on special topics available to all audiences!
o Very competitive pricing at just $13 per credit!
o For more information check out: http://www.fit.edu/bst/programs/aba/ceu.php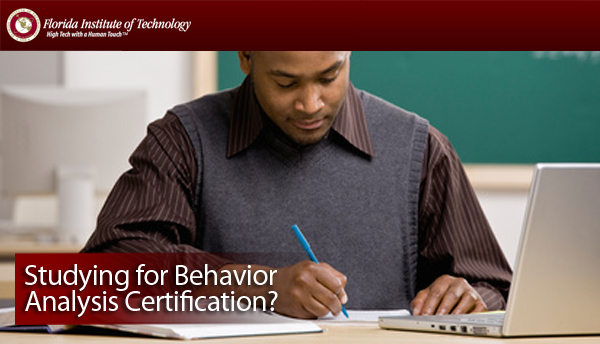 • Studying for the certification exam?
o Mock Exam**
o Guided Review**
Courses run each quarter before BACB exam administration
Pre and post testing to measure progress
Custom tailored comprehensive review based on testing scores
Live review presented by highly-qualified BCBA instructor
For more information check out: http://www.fit.edu/bst/programs/aba/exam.php#guided-review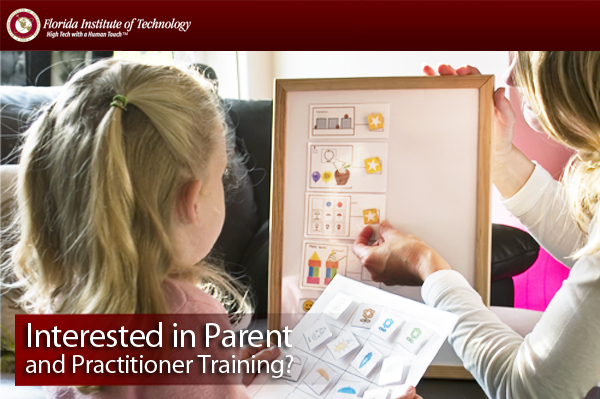 o Workshops offered every two months
o No pre-requisite knowledge of ABA necessary
o Two live 90 minute courses, plus 6 additional hours of training video
o Focuses on key skills for solving many common parenting issues
o For more information check out: http://www.fit.edu/bst/ceu/parenting.php
*These workshops are presented in partnership between Florida Tech PDP ABA Online program and ABA Technologies, Inc. ABA Technologies, Inc. is a BACB® approved provider of Type II Continuing Education hours (Provider Number OP-02-0023).
**The BACB® does not endorse, sponsor or approve of this examination. Items appearing on this examination are not part of the BACB® certification examination and sitting for this assessment does not guarantee your passing of the BACB® examination
SPECIAL PARENT - BEHAVIOR MANAGEMENT/APPLIED BEHAVIORAL ANALYSIS
We specialize in all things ABA, and are 100% online for your learning convenience. We offer parent and instructor training courses that focus on behavioral solutions to common home and classroom situations, CEU courses for individuals looking to maintain their certification or to learn more about a particular topic, accredited courses for BCBA/BCaBA certification taught by highly qualified instructors, and BACB exam preparation. Come check us out!
Read More About Florida Institute of Technology ABA Online Program
Academic Enrichment Classes and Programs for Kids in Manhattan
Our guide to academic enrichment classes and programs in Manhattan offers a comprehensive list of tutors, academic centers, math tutors, writing and English tutors, foreign language study, homework help programs, and after-school enrichment programs to help your child excel in all school subjects. Consult our listings for the best academic enrichment classes and programs from the upper east side, to the west village, midtown, and all other Manhattan neighborhoods.