Check out our guide to throwing a children's birthday party or special event in Manhattan. You'll find party places and venues, caterers and cake, balloon and other supply stores, entertainers like magicians, clowns, and face painters, and more!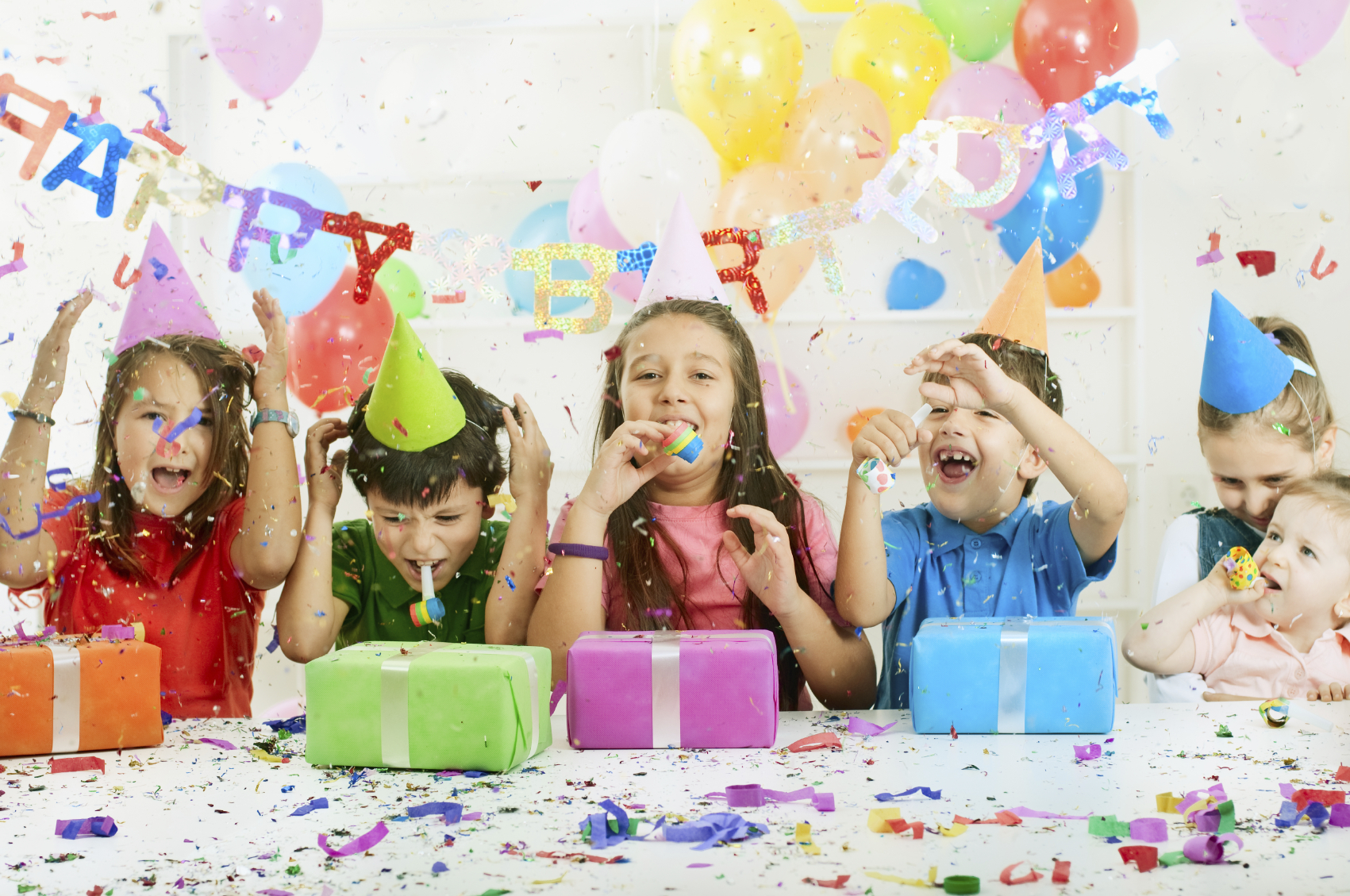 300 NEW YORK
Pier 60/23rd & West Side Highway, New York
212-835-2695

At 300 New York, there's no need to lift a finger (aside from hoisting a bowling ball!) as the 300 staff will take care of everything. From equipment specialists pulling shoes and bowling balls, to professional wait staff delivering drinks and snacks lane-side, we'll remain on-hand throughout the entire experience for anything else you might need in-between frames.

ART PARTIES
211 W.102nd Street, #2A, New York
917-952-1015

Searching for a new party activity? Look no further! Art Parties creates a fun arts and crafts project tailored to your child's interests and age. Experienced designer/artist, Mara, brings all art supplies to your home, park, or other venue, supervising the activity from set-up to clean-up. Review the gallery at artparties.info to select a project. Duct tape totes, bejeweled flip-flops, beaded bracelets, handmade paper, or other crafts are all possibilities! Ideal for small groups of kids, including special needs children; larger groups can be arranged. Call today—reserve your Art Party!

BEEHIVES & BUZZCUTS
365 First Ave. at 21st Street, New York
646-476-6294

TONY KIDS 2012 Voted "Best Place to Get a Hair Cut." Glam Girl Spa Birthday Party is 120 minutes; $795 for 10 girls, including manicures, pedicures, hair tinsel, karaoke, invitations, RSVPs, pizza, juice, cake, goodie bags. We have a spacious party room, and unique, gorgeous, butterfly child pedicure chairs. Add karaoke, manicure, and hair tinsel, and you have a little princess's dream come true. Your guests can buy the gifts in our toy store and get 10% off! Party room is also available for a simple rental.

BLUE MAN GROUP
Astor Place Theatre, 434 Lafayette St., New York
800-BLUEMAN

Blue Man Group is great for birthdays, or any special occasion! This unique theatrical experience is a form of entertainment like nothing else, guaranteed to be an outing your group will never forget. Birthday party packages are available, and include name of birthday child on the LED screen at the beginning of the show and small merchandise item for each guest. The birthday child receives one 14 x 22 Blue Man Group poster.

BOOK NOOK
167 W. 81st St. (Amsterdam & Columbus), New York
212-873-2665


CENTER FOR ARCHITECTURE FOUNDATION
536 LaGuardia Place, New York
212-358-6133
Email info@cfafoundation.org

Does your child love to build? The Center for Architecture Foundation offers architecture-themed birthday parties for children ages 6-12 at our Greenwich Village location. Themes include Skyscrapers, Streetscapes, My Dream House, Design-A-City, or let us customize one to meet your child's interests. Led by our experienced educators, kids design and build their own architectural models from a wide range of art and craft supplies, making a memorable, one-of-a-kind party favor to take home. Parties last for two hours and include a hands-on building activity plus time for lunch and cake.

CHELSEA PIERS SPORTS AND ENTERTAINMENT COMPLEX
23rd Street & Hudson River Park, NYC
212-336-6500

Chelsea Piers is home to Manhattan's best sports-themed birthday parties. State-of-the-art facilities and world-class instruction combine with convenient party planning and packages, for a fun and memorable birthday celebration! Pre-schoolers to teens choose from a variety of activities at the 23,000-sq.-ft. gymnastics center, with in-ground trampolines and deep foam pits, rock climbing wall, indoor playing fields, Little Athletes Exploration Center, basketball courts, batting cages, two indoor ice skating rinks, a 40-lane bowling center, or the hi-tech golf driving range.

CITY CONGREGATION FOR HUMANISTIC JUDAISM
15 W. 86th Street, New York
212-213-1002
Sunday KidSchool, Adult Ed: SAJ, 15 W. 86th St.
Shabbat programs: 14th Street Y, 344 E. 14th St. (1st and 2nd Avenues)
High Holiday services: Holiday Inn, 440 W. 57th St.
212-213-1002

The ultimate birthday party for a Jewish youngster is the Bar or Bat Mitzvah, a rite of passage into adulthood, generally at age 13. At The City Congregation, the innovative, secular celebration reflects a two-year , individual mentored journey to discover Jewish and/or intercultural roots and connections, and personal beliefs and values. Jewish history, culture, and ethics are learned in stimulating concurrent classes. The proud and joyous City Congregation Bar or Bat Mitzvah service and celebration are memorable and meaningful once-in-a-lifetime events! Join in.

CITY ICE PAVILION
47-32 32nd Place, Long Island City
718-706-6667

Have your next birthday party on the ice at City Ice Pavilion! Our basic party package starts at $20 per child, which includes party room, pizza, and beverage, skate rental and admission, plus invitations. Add a half-hour skating lesson for an additional $5 per child. And the birthday child is free! For more information, please contact Cathelyn Cheow at City Ice Pavilion, 718-706-6667, or email ccheow@cityicepavilion.com.

CREATIVE HOSPITALITY GROUP
888-846-4959
Email info@creativehospitalitygroup.com

Throwing a birthday party is like getting in shape: you love the end result, but not the hard work needed to get there. With Creative Hospitality Group, the professional entertainers flex their muscles so you can sit back and enjoy! Your little one's big bash includes up to 15 kids in our hip, 2,500-square-ft. loft space, a DJ, party motivator (who will provide dance instruction), fog machine, games, and competitions, plus pizza, lemonade, punch, and popcorn to keep them fueled. Plastic plates, silverware, and a server/set-up person mean you won't break a sweat!

DAVE'S CAST OF CHARACTERS
914-235-7100

Make your party a special one! Dave's entertainment services include over 100 costumed characters: from princesses and superheroes to pirates and tea parties, holiday parties for Halloween, Thanksgiving, and Christmas. We feature DJs, clowns, magicians, face painters, balloon sculptors, and food carts. Spectacular inflatable attractions include: Wild One and Kong's Revenge obstacle courses, Cliffhanger Slide, and Mickey Park. We have loads of indoor inflatables for when the weather gets cold. Our new Photo Booths provide memorable keepsakes. Enjoy Bouncers, Carnival Games, Gladiator Joust, Sports Inflatables, robot rides, racecars, and more.

ELLIOTT'S CLASSES
131 W. 86th St., New York
917-517-8721

Let Elliott's Classes help celebrate your child's birthday! We offer gymnastics- and dance-themed birthday parties for all ages, and can also accommodate special-needs children. Our upbeat teachers can host parties at the venue of your choice, or at our headquarters. Contact us today to ensure your event is a special one!

FIELD STATION: DINOSAURS
One Dinosaur Way, Secaucus
973-748-4317
Email info@fieldstationdinosaurs.com

Say good-bye to boring, uninspired birthday parties and enter an outdoor Paleozoic world of mystery, learning, and unforgettable thrills. Every party includes admission to the Field Station and its dramatic, dinosaur-lined trails, a designated party planner, birthday cake, an optional barbeque lunch, and VIP seating at one of our two live shows. Every birthday boy or girl gets a photo opportunity with our realistic T-Rex and a special hat to remember his or her incredible trip back in time; all guests receive an age-appropriate thank-you gift. Availability is extremely limited, call to check availability.

JODI'S GYM
244 E. 84th St.,
212-772-7633
25 Hubbels Drive, Mt. Kisco
914-244-8811
Email jodgym@aol.com

jodgym@aol.com Kids run, jump, climb, tumble, slide, bounce and giggle to their hearts' delight at Jodi's Gym, where action-packed parties have won children's hearts for 31 years. Our bright, spacious facility is every child's dream. Teachers guide the children on bars, beams, rings, slides, tunnels, space bouncer, tumble track, and more. Next, it's off to a separate area for refreshments that we are happy to supply. Teachers set up, serve, and clean up. At Jodi's, the whole place is yours! You sit back and enjoy.

JOFFREY BALLET SCHOOL
434 Ave. of the Americas, 3rd, 4th, & 5th Floors, New York
212-254-8520

The Joffrey Ballet School is the home of Baby Ballerinas, Hip Hoppin' Street Jazz, Demi Soloists, and so much more. The world-renowned program is a world-renowned good time for you and your child. We have 60 years of excellence to share with your family. The dance classes begin at the age of two, with live music and performances that will create memories to last a lifetime. Our theme-based birthday parties are fantastic, with cakes by the "Cake Boss," and sprinkles of joy from the school faculty. Come grow with
us...joffreyballetschool.com.

KARMA KIDS YOGA
104 W. 14th St. (bet. 6th & 7th Avenues), New York
646-638-1444

Karma Kids Yoga, New York's only yoga studio dedicated just to children, offers classes for babies, toddlers, kids, tweens, teens, and families, plus Community Yoga, Prenatal Yoga, GLOGA Yoga, free StoryTime Yoga, Pajama Yoga, Yoga Birthday Parties, Special Yoga Events, Teacher Training, and more! Recently opened: our second studio space next door, which offers Prenatal Yoga and Prenatal Pilates classes, as well as an Adult Beginners Yoga class for parents to get back in shape and de-stress in an unintimidating atmosphere. Come Play Yoga!

KATE TEMPESTA'S URBAN GOLF ACADEMY
Various indoor and outdoor locations in Manhattan, Brooklyn, and the Hamptons,
917-270-7257
Brooklyn, Queens, Fairfield and Long Island.

Using a combination of child-friendly, modified equipment and traditional equipment, UGA teaches the four basic shots, various golf fundamentals including posture, setup, aim and alignment, and rules and etiquette of golf. Our unique program lets children explore the game of golf via a mixture of fun, creative golf drills, and games. We offer customized, hour-long birthday parties too!

KIDS AT ART CHILDREN'S ART STUDIO & GALLERY
1412 Second Ave. (bet. 73rd & 74th Streets), New York
212-410-9780
Email wendy@kidsatartnyc.com

Imagine a party where your child and guests create fabulous projects to take home. At Kids at Art, choose from a variety of art projects in our private art studio, which is all yours for 1½ hours! Projects can be tailor-made for your child, or you can choose from a variety of others. In addition to our Arty Parties, we offer karaoke and dance parties run by professional DJs. Included are all art supplies, personalized invitations, paper goods, balloons, and juice. All Kids at Art parties are run by a staff of professionals.

LANYARD LADIES
21 Ryder Place, East Rockaway
516-578-2248
Email thelanyardladies@yahoo.com

The Lanyard Ladies' Friendship Bracelet and Lanyard Birthday Parties bring the party to you; or you can come to their party place or one of their partner locations. With dozens of colors of string and lanyard, kids can make hundreds of different designs, learn various patterns, and make a variety of crafts including string bracelets, necklaces, and more. They offer classes, an amazing craft kit, and instructional DVD. Check out their website to purchase. Join The Lanyard Ladies summer camp for a "stringtastic" good time.

LITTLE GYM
777 White Plains Road, Scarsdale
914-722-0072
Upper West Side (bet 74th & 75th Streets)
2121 Broadway (2nd Fl.), NYC
212-799-1225
Upper East Side (between 2nd & 3rd Avenues)
207 E. 94th St., NYC
212-787-1124
28 Franklin Turnpike, Waldwick NJ
201-445-4444

A private party at The Little Gym is a perfect way to celebrate your child's next birthday. The 1½-hour parties are supervised by our trained, professional staff from beginning to end. Gymnastics, games, obstacle courses, trampoline, sports, and music are tailored to your child's interests. Parties at The Little Gym mean exclusive use of the gym and party room. At The Little Gym, your child's birthday bash will be the easiest party you'll ever throw!

MAD SCIENCE
888-MADD-SCI
Mad Science of Westchester
Mad Science of Manhattan

Keep your children learning and laughing with Mad Science! Our exciting and engaging parties keep kids inspired about science. We bring our hands-on shows right to your home. It's no-hassle, mess-free fun that parents love just as much as kids. Call today and ask about our bubbling potions and rocket launches, or visit our website.

MUSIC BEANS
118-122 Baxter St., Suite 702 (bet. Canal & Hester), New York
646-770-1599

Music Beans celebrates your child's birthday with 90 minutes of fun and excitement! Our diverse, music-themed parties are led by professional musicians and creative educators. The first 45 minutes features energetic Music Beans concerts, rhythmic games, singing, and movement. The second 45 minutes includes arts and crafts, with celebration birthday cake and pizza for your child's special day. The package incorporates different musical genres and diverse cultural backgrounds. For more information, visit our website or call 646-770-1599.

MY GYM NYC CHILDREN'S FITNESS CENTER
Upper West Side
22 W. 66th St., (bet. W. Central Park & 65th Street Transverse)
Harlem
258 St Nicholas Ave
New York, NY 10027
212-724-3400

Your child is the star of the party when you celebrate their birthday at My Gym UWS. We custom-design each party to incorporate your child's favorite age-appropriate games, activities, rides, songs, puppets, and more! We deliver an unmatched level of energy and excitement, and provide the right combination of structured activities and free play so that every child is guaranteed to have a blast! Several packages and features are available including over 30 themes, food, party favors, and more. For all parties your family and guests enjoy exclusive use of our entire facility.
PARTYPOOPERS
New York City & Surrounding Areas,
212-224-9955
Email info@partypoopers.com

PARTYpoopers, NYC's veteran kids' birthday party planners, is now offering Manhattan's ONLY lasertag parties in an historic downtown location. As always, the parties are customized, private, and tons of fun. They're still doing their famous "Pirates on the Peking" parties at the South Street Seaport; or, if you simply want expert help planning your party, Poopers is the way to go. From full-service, seamless events, whimsical décor, top-notch entertainment, creative themes, one-of-a-kind venues, fanciful favors, and outrageous cakes, to party-consultation and staffing, Poopers will make the kids smile, and your life that much easier.

POLE POSITION RACEWAY - INDOOR KARTING
99 Caven Point Road, Jersey City
201-333-RACE (7223)

Give your friends and family something to rave about with a birthday party at Pole Position Raceway. Just two miles from the Holland Tunnel in Jersey City, it's the most authentic and exciting activity for birthday celebrations and private events. Our party packages include racing in electric karts with speeds up to 45mph on our state-of-the-art tracks, pizza, arcade games, and use of our party rooms. We can add catering, trophies, and unique options to any group event. Create a special memory with world-class racing at America's #1 chain of indoor electric kart tracks.

TADA! YOUTH THEATER
15 W. 28th St at Broadway, New York
212-252-1619

Celebrate like a star! TADA! offers musical theater birthday parties where your group can experience one of our original musicals for kids (by kids) and/or get in on the action themselves. Package options can include a performance at our theater, or a specialized singing and dancing workshop at the location of your choice. All parties include the TADA! birthday song personalized for you, a special goodie bag for the birthday child, invitations, and favors. Let TADA! create a party for you. Visit our website or call for more details.