Check out some of the best family events happening this May in Manhattan, including kid-friendly shows, Mother's Day activities, and a new museum exhibit.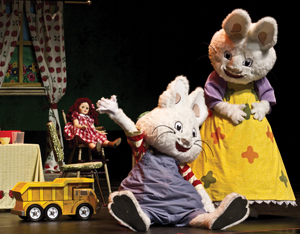 Max and Ruby on Stage
In Max and Ruby Bunny Party the siblings hunt down the best present in the world for the bunny party of the year in this comical musical based on the books by Rosemary Wells. May 1. 1:30pm. $26-$46. Best Buy Theater, 1515 Broadway at W. 44th Street, Manhattan. 212-930-1950.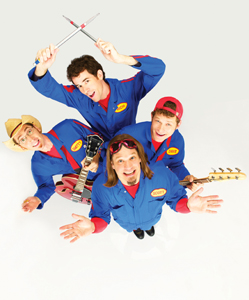 Dance, Sing...Imagine!
The award-winning Imagination Movers, along with a few special guests, will bring their In a Big Warehouse tour to the Best Buy Theater May 6-8. Clad in their trademark blue coveralls, these hard-working entertainers will dazzle families with their high-energy rock/pop sound and an interactive show that encourages singing, clapping, and dancing. Shows at 4:30pm. $29.50-$49.50. Best Buy Theater, 1515 Broadway. For more information and tickets: 800-745-3000.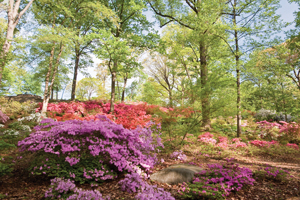 Top Picks for Mother's Day
Looks like all those April showers have finally paid off, and just in time for Mother's Day! On the holiday weekend, the New York Botanical Garden will debut its new, 11-acre Azalea Garden (pictured right), one of the largest and most diverse displays of azaleas in the world. Stop by any time during two Festival Weekends - May 7-8 and May 14-15 - to tour the garden and enjoy gardening demonstrations, live music, and family activities. $20; $18 students and seniors; $8 children 2-12; free children under 2. New York Botanical Garden, Bronx River Parkway (exit 7W) and Fordham Road, Bronx. 718-817-8700.
If you're looking for all-about-mom events closer to your door, try one of these below:
Skip breakfast in bed and bring mom to a Mother's Day Brunch at City Treehouse, where you can work together to cook a festive and flavorful meal that's fit for a queen. May 7 at 10am. $35; $15 siblings. 129A West 20th Street. 212-255-2050.
Moms and little ones can brush up on their Manners for Mother's Day at this interactive class presented by socialsklz:-) in honor of National Etiquette Week. Learn about place settings, how to play the perfect host and guest, and proper mealtime behavior, then end the lesson with a mini-meal. May 7 at 12:30pm. $25 per person. 24-32 Union Square East, 4th Floor South. 212-579-5300.
Enjoy Concert & Afternoon Tea: A 19th-Century Serenade to Mother at the Merchant's House Museum. Take your tea in the museum's "secret" garden, then listen to Sing It With Flowers, a song recital of 19th-century salon music performed live by members of the Bond Street Euterpean Singing Society. Reservations required. May 8 at 4pm (concert at 5:30pm). $50; $25 concert only. 29 East 4th Street. 212-777-1089.
Celebrating moms and the people who love them, the 8th Annual Mamapalooza Outdoor Extravaganza will feature mom-tastic music, film, drama, comedy, burlesque, and readings, including live performances by "Funniest Mom In America" finalists and mom bands like Housewives on Prozac and the Anna Banana Band. May 22, 11am-5pm. FREE. Riverside Park South, Pier I at 70th Street and the Hudson River. 212-408-0219.
Ballet in Miniature
The NYTB presents a series perfect for children who might not be able to sit through a full-length performance. Sleeping Beauty clocks in at one hour and is a good forum to introduce little ones to the arts. May 14, at11am and 1pm. May 15 at 11am, 1pm, and 3:30pm. $39; $34 kids 12 and under. New York Theatre Ballet, Florence Gould Hall, 55 East 59th Street, Manhattan. 1-800-982-2787.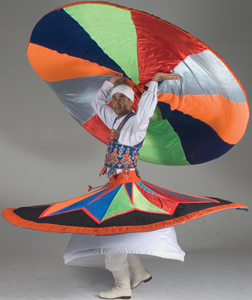 Learn About Islamic Lands
The Children's Museum of Manhattan will host its Arts from Islamic Lands Festival this month, with a weekend full of cultural events. On May 21-22, kids can drop in to the museum to learn about and make a traditional horseshoe arch mosaic collage using paper mosaic tiles (10am and 1pm) and design their own Islamic "courtyard" with an eight-point star using colorful tissue paper and magic noodles (10am-12:30pm and 1:30-4:30pm). On May 21, kids ages 5 and older can learn the fine art of Islamic calligraphy from noted calligrapher Elinor Aishah Holland (2pm and 3pm) and all ages can enjoy a performance by the J-Hoon Musical Ensemble, whose young members will perform classical Kurdish songs and folk dances of Western Iran (4pm). On May 22, kids can learn traditional Middle Eastern dances in a workshop led by Yasser Darwish (1:30pm), and all ages can enjoy a presentation by the Egyptian Celebration Company dancers, who will perform the whirling dervish (pictured), the stick dance, and the traditional horse dance. All programs are included with $10 museum admission. 212 West 83rd Street. 212-721-1223.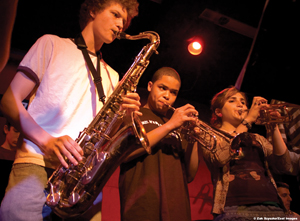 Jazz It Up
Each Sunday throughout the school year, families are invited to the Jazz Standard, the nation's premier jazz club, for a special program called Jazz for Kids. While enjoying brunch from Blue Smoke's famous barbecue menu, guests can groove to tunes provided by the Jazz Standard Youth Orchestra, a group of talented musicians between the ages of 11 and 18 who regularly burn through jazz classics such as "Cherokee," "How Insensitive," and "Billie's Bounce." The orchestra will be joined by two special guests this month. On May 1, saxophonist Steve Wilson will drop by, and trumpeter Jeremy Pelt will appear on May 22. Doors open at 1pm; performance runs 2-3pm. In lieu of a cover charge, guests may donate $5 to the Jazz Standard Discovery Program. Jazz Standard donates $1 from each kid's menu sold to Spoons Across America, a non-profit organization dedicated to educating children, teachers, and families about healthy eating habits. Jazz Standard is located at 116 East 27th Street. For more information or to reserve a table: 212-576-2232 or www.jazzstandard.com.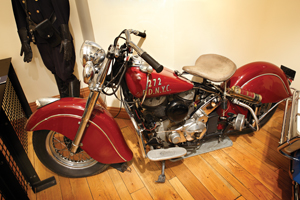 A Century of Service
The New York City Police Museum tips its hat to the New York Police Department (NYPD) Motorcycle Squad, the branch that paved the way for today's NYPD Highway Patrol, with the opening of its new exhibit, The NYPD Motorcycle Squad: A Century of Service to New York City. In honor of the squad's 100th anniversary, visitors can view vintage department motorcycles, antique equipment and uniforms, videos of oral histories, and photographs of the squad in action throughout the years. Motorcycles on display will include a 1940s-model classic Red Indian and a late 1960s silver Harley. The exhibit runs May 16-June 16. Open 10am-5pm Monday-Saturday; 12-5pm Sunday. $8; $5 seniors, students, and children; FREE children under 2. 100 Old Slip. 212-480-3100.
Also see: Harry Potter and the Epic Exhibit
Our Online Calendar, for even more upcoming family events in Manhattan and the New York metro area